LesOrchard
Revision r1.24 - 19 Aug 2002 - 14:56 GMT -
LesOrchard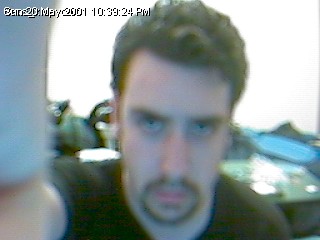 This page is likely very stale!
This is my "home page". It's a topic page in a
larger space
on
0xDECAFBAD
, my techie haven on the net. I'm still exploring exactly what I want to do with this
space
and this home page, so stay tuned.
These are my webcams. They may or may not be working at any given time.
These are RSS feeds of persistent Google searches, narcissistically seeking out links to me and mentions of my name.
Why are these here? Am I some sort of self-obsessed looney? No, mostly they're here just because I'm trying out a
GoogleToRSS
widget I wrote. Though, it is interesting to see if and where you're being talked about. :)
(Problem parsing this channel. See debug.)

            http://www.decafbad.com/web-services/url-based/google_rss.cgi?query=link:XGnxCbayl9UC:www.decafbad.com/&title=Links to 0xDECAFBAD&description=Top%2010%20Links%20to%200xDECAFBAD&
            
no element found at line 1, column 0, byte -1 at /usr/lib/perl5/vendor_perl/5.8.0/i386-linux-thread-multi/XML/Parser.pm line 185


            
            
(Problem parsing this channel. See debug.)

            http://www.decafbad.com/web-services/url-based/google_rss.cgi?query=%22leslie+michael+orchard%22&title=Leslie+Michael+Orchard's+Ears+Turning+Red+&description=Who said my name?
            
no element found at line 1, column 0, byte -1 at /usr/lib/perl5/vendor_perl/5.8.0/i386-linux-thread-multi/XML/Parser.pm line 185


            
            
(Problem parsing this channel. See debug.)

            http://www.decafbad.com/web-services/url-based/google_rss.cgi?query=%22les+orchard%22&title=Les+Orchard's+Ears+Turning+Red&description=Who said my name?
            
no element found at line 1, column 0, byte -1 at /usr/lib/perl5/vendor_perl/5.8.0/i386-linux-thread-multi/XML/Parser.pm line 185


            
            
(Problem parsing this channel. See debug.)

            http://www.decafbad.com/web-services/url-based/google_rss.cgi?query=%22l.m.orchard%22&title=l.m.orchard's+Ears+Turning+Red&description=Who said my name?
            
no element found at line 1, column 0, byte -1 at /usr/lib/perl5/vendor_perl/5.8.0/i386-linux-thread-multi/XML/Parser.pm line 185


            
            
(Problem parsing this channel. See debug.)

            http://www.decafbad.com/web-services/url-based/google_rss.cgi?query=%22deus_x%22&title=deus_x's+Ears+Turning+Red&description=Who said my name?
            
no element found at line 1, column 0, byte -1 at /usr/lib/perl5/vendor_perl/5.8.0/i386-linux-thread-multi/XML/Parser.pm line 185


            
            
Nicholas Riley's software

SO much good OS X stuff here.

Hipbone games
Perl2EXE

Perl2Exe is a command line utility for converting perl scripts to executable files.

The GUI Loft

A powerful and easy-to-use WYSIWYG design tool (written in Perl) for designing Perl Win32::GUI Windows.

Sledge Hammer! Arsenal!
JavaScript RSS box
Blogback
Comment Archive and Interchange Format
Links open windows (javascript and bookmarklet)
YACCS, commenting made simple
Dvorak, the Nomic card game
The Joel Test: 12 Steps to Better Code
Links open windows (javascript and bookmarklet)
Phil Agre's Red Rock Eater - http://dlis.gseis.ucla.edu/people/pagre/rre.html
Meerkat, news aggregator - http://www.oreillynet.com/meerkat/
Jen's site - http://www.lucky-shots.com/
Horizontal size of text edit box:
Vertical size of text edit box:
Optionally write protect your home page: (set it to your WikiName)