Introducing Fireriver, a River of News for Firefox 4
TL;DR: I have a history of building news aggregators. Now, I've built one as an addon for Firefox 4.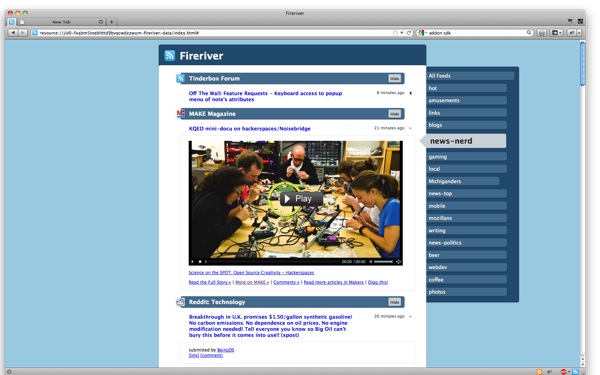 This is Fireriver, an experimental add-on for Firefox 4. You can find the source code on GitHub.
Fireriver uses Live Bookmarks to build a River of News in your browser. No unread counts, no 3-pane view like an email client. Just paddle down the page with the space bar or your scroll wheel.
Organize the Live Bookmarks into folders to split things up into multiple rivers—which is not a strict River of News, per se. But, I like using them to focus on particular topics or priorities I happen to have time for.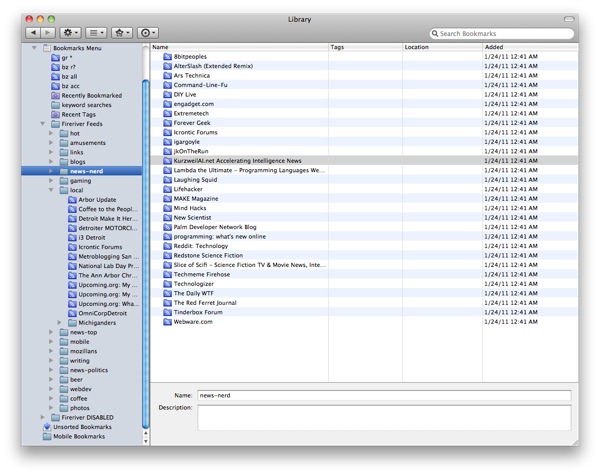 It also displays a more obvious notification when a site has a feed and lets you add a new Live Bookmark subscription to the Fireriver folder with one click. (I'm considering splitting this feature off into its own small add-on.)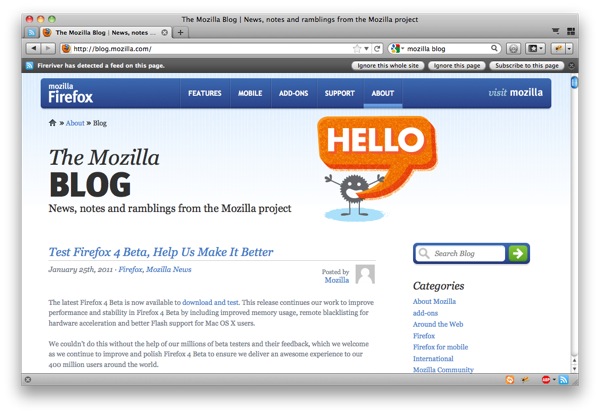 Of course, when I say experimental, I mean that this is my first Firefox add-on ever. I'm starting to use it daily, but I'm well-versed in nuking and rebuilding my Firefox profile. I haven't had to do that yet, but I'm expecting to have to do it eventually. I'll be pleasantly surprised if it turns out I haven't totally screwed something up.
Other add-ons you may enjoy
If you like the idea of this add-on, you may also enjoy these: